Starbucks is one of the world's most recognizable brands and has continued to stay ahead of its competitors. Recently, the company announced a major expansion strategy which will grow number of Starbucks locations by over 50%. In the net lease world, their cap rates have not only compressed over the past few years but are trading lower than the national average STNL cap rates.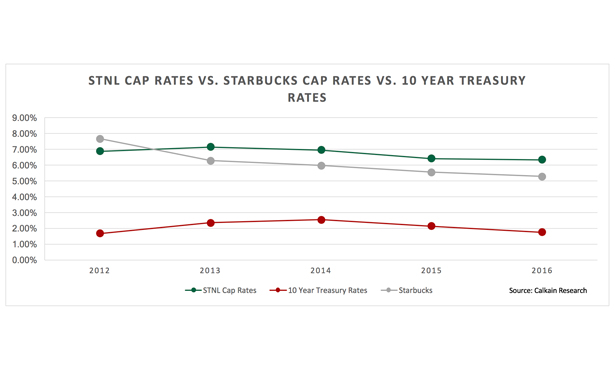 The coffee giant plans to open 12,000 stores globally, especially in key U.S. markets and China by 2021, bringing a total of 37,000 stores worldwide. They also plan to introduce two new store concepts, a high-end coffee store called Starbucks Reserve and freestanding bakeries under the Princi banner, an Italian boutique bakery they acquired earlier this year.
The national average cap rate for Starbucks was 5.27% as of Q3 2016, while the national retail STNL average cap rate for the same period was 6.34%. Starbucks trades at a lower cap rate because of premium real estate, strong financials, and high investment grade ratings by both S&P and Moody's (A- and A2 respectively.)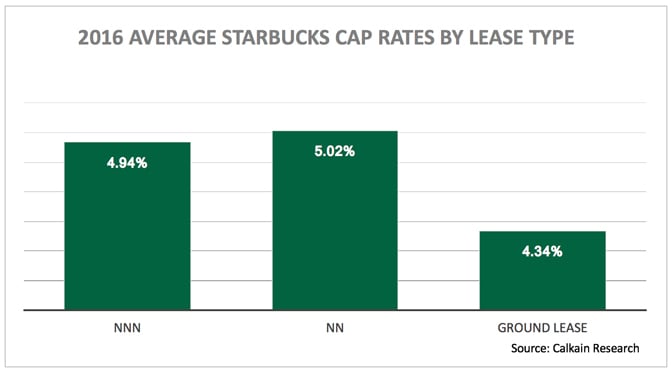 Starbucks is one of the very few quick-service brands that refuses to franchise. Lease terms are generally 10 years, but the lease type does vary. Bricks and sticks fee simple deals traded at around a 4.94% cap rate. NN leased properties have sold for an average of 5.02% cap rate.
The coffee behemoth's consistent innovation and expansion have kept competitors at bay. Starbucks continues to be a high demand net lease investments due to their compelling and forward-thinking concepts.  View on GlobeSt.com.